DS Stålprofil is Cradle to Cradle Certified® Bronze
Cradle to Cradle Certified®
C2C is a design concept and methodology that helps companies develop both products and product standards that can be included in the circular economy. The concept is non-profit, international and third-party verified. The criteria in the product standard are based on both demanding legislation, and voluntary standards in the areas of product, recyclability, climate and environment and CSR and are assessed in five categories:
1. Material Health
Materials must be healthy for people and the environment.
2. Product Circularity
Products and processes must be designed to go into a circular economy safely.
3. Clean Air & Climate Protection
Manufacturing must ensure clean air without harmful emissions and prevent climate change by using renewable energy.
4. Water & Soil Stewardship
Manufacturing must protect both land and water from pollution and depletion.
5. Social Fairness
Manufacturers must respect human rights and contribute to a just society.
The main idea of the Cradle to Cradle manufacturing philosophy is simple to describe: Whatever is manufactured must have a minimum of waste, understood explicitly as pollution and waste, in all phases of the product's life. Residual products from production should be recycled to become part of the production material for a new product, which can then be recycled to create a range of new products. The range of phases in which a product's materials can be recycled should be optimised.
The products must be healthy for the environment and people, positively impact the economy, and form part of a repeated or completely new healthy biological or technical cycle.
Cradle to Cradle Certified® – Score Card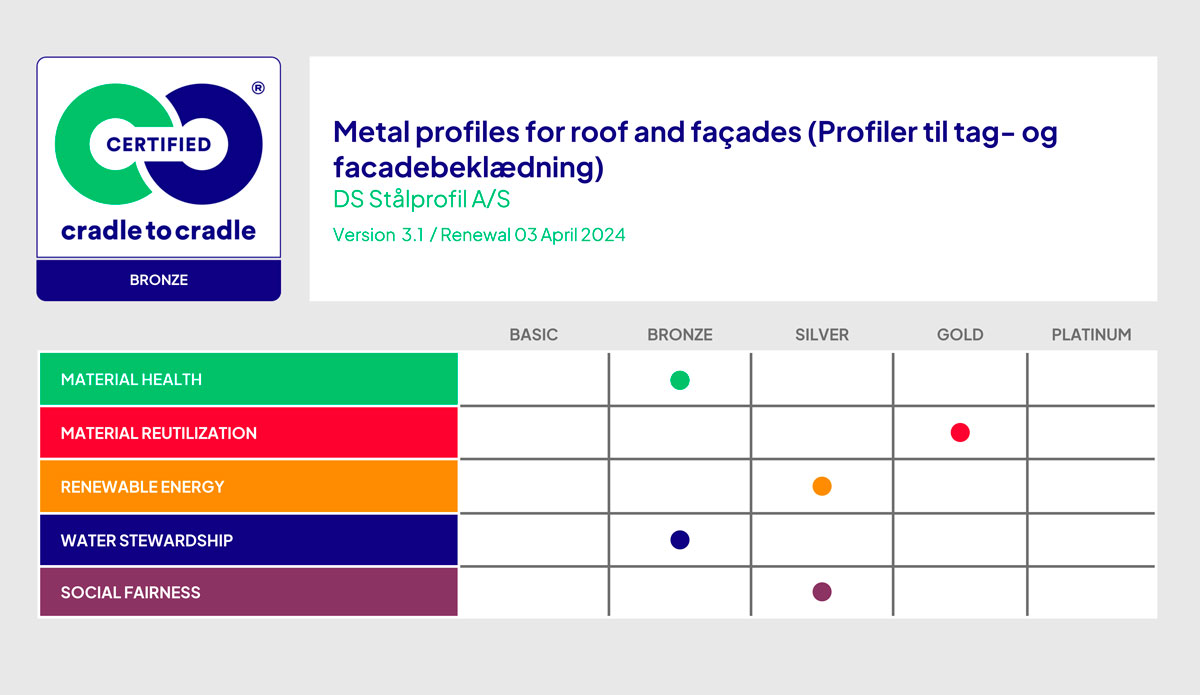 Thomas Rasmussen, CEO of DS Stålprofil, says: "We have focused on the green and sustainable transition and production for a long time. We are a strong company that wants to be a role model and meet the future's high demands for low environmental impact and safe and healthy development of sustainable building materials. Just as we were first with GreenCoat® steel products in Denmark, it was only natural for us to embrace the Cradle to Cradle concept, which helps us keep our focus and set specific guidelines for the green profile we want to have both in the short and long term - including good support for our work with the 17 SDGs."
"It's no longer just about reducing the carbon footprint - it's also about ensuring that only waste that can be recycled is produced, and that production is converted to be based on renewable energy. The C2C certification is just proof that we are working constructively and continuously with the green transition and the development of sustainable products for the benefit of the world today and people in the future," concludes Thomas Rasmussen.

Circular Economy
For many years, our society has been characterised by a linear economy (cradle to grave): extraction of mineral resources, manufacturing products, consumption and disposal, and the resources are lost in the process. That is why we need the circular economy, where we ensure that products and ingredients are part of continuous cycles of reuse and recycling - again and again. Harmful ingredients must be eliminated, and all manufacturing must be based on renewable energy. No resources are lost in a circular economy, and materials retain their value.
Circular value chains
Through collaboration and partnerships throughout the value chain, DS Stålprofil ensures that all materials are harmless and form part of a technical or biological circuit. In production, renewable, used or recyclable materials are used, and it is ensured that used materials return to circulation. This could be through take-back schemes or through partnerships with other companies.
Cradle to Cradle lifecycle
Cradle to Cradle (C2C) is about minimising the adverse effects of production and products, and promoting the positive effects on the environment, economy and people throughout the life cycle, just like in nature's own ecosystem, where surplus materials and waste either biodegrade or become nutrients for other animals and plants.

As the first thin sheet manufacturer in Denmark, we have now achieved Cradle to Cradle Certified® Bronze for our main product group of steel profiles for roof cladding and facades. Among the certified products are steel solutions with GreenCoat®, where a significant part of the traditional fossil oil in the paint coating has been replaced by Swedish rapeseed oil.
Future development
However, that's not happened yet. Concerning the C2C standards, DS Stålprofil also commits to positive future development, as the certification is dynamic and requires year-on-year progress within the five criteria. Therefore, the company also expects to increase its certification level continuously. C2C has four levels of certification in the Cradle to Cradle Certified® product standard: bronze, silver, gold and platinum.
Maximum lifespan and optimum protection
To achieve the maximum lifespan of your new steel cladding, it is essential that you choose a surface coating that is able to withstand the climatic influences that exist in your local area. If, at the same time, you wish to be certain of a high UV resistance, this should also form part of your considerations.
Please contact our sales department for advice on choosing a surface type. Or just pick the best one.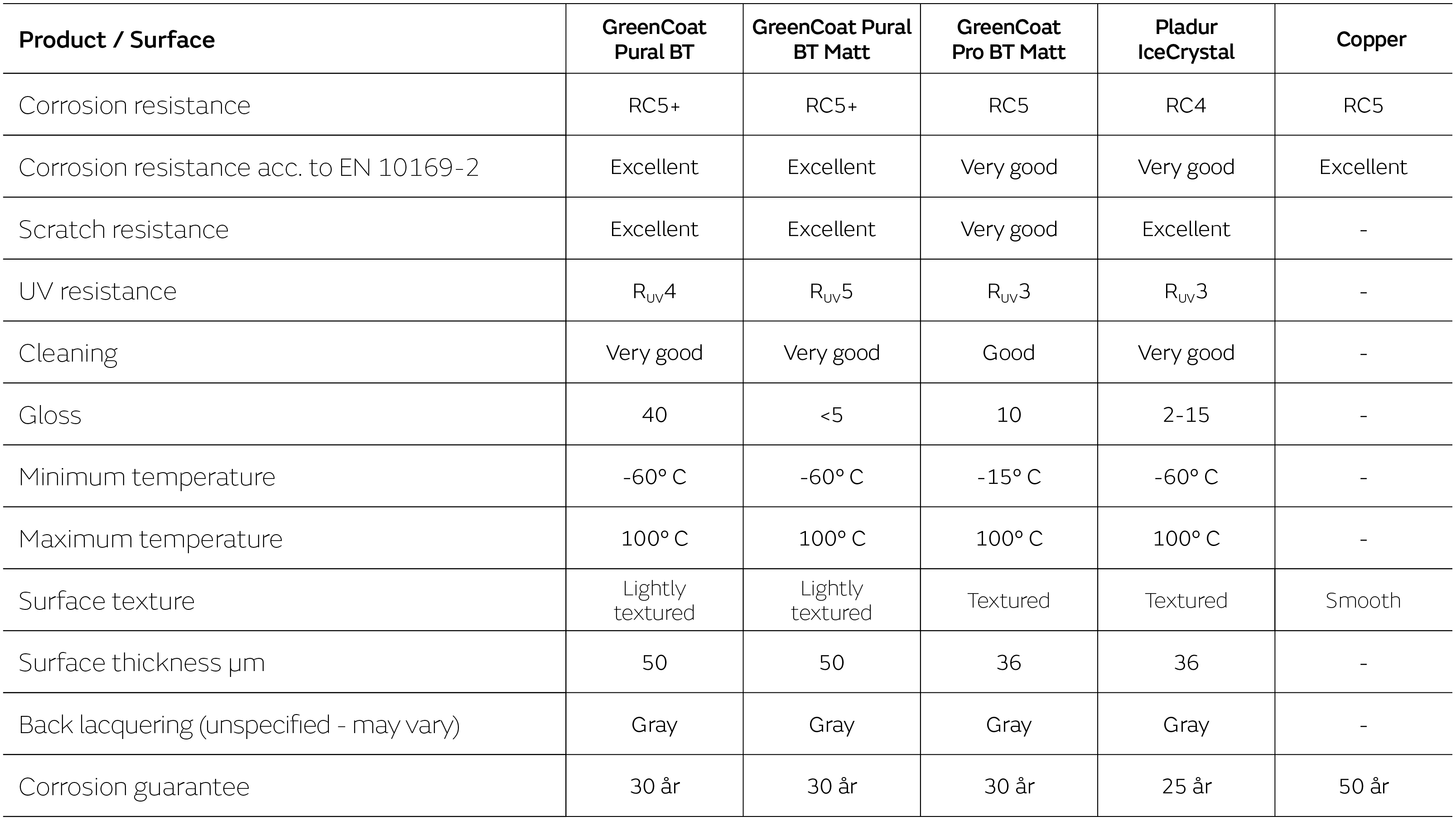 Søren Nielsen, Architect MAA "Vandkunsten", estimates the climate impact of thin-plate steel to be at the same level as wood cladding, e.g. because there is very little material consumption at sheet thicknesses of only 0.60 mm compared to the typically long lifespan of the product.
At Vandkunsten, they have also experimented with the recycling of thin-plate steel which is found to have a significant recycling potential between first generation use and recycling.
Read the entire statement of Søren Nielsen and more about the project
Anticorrosion properties
The ability of a steel plate to withstand corrosion and rust is indicated as the anticorrosion properties of the steel plate. Based on international standards, all surface treatments may be classified according to their ability to withstand this corrosion. The standard specifies, inter alia, plate performance within different product elasticity classes, different anticorrosion property classes and different UV resistance classes.
Previous assumptions that a thick surface treatment would necessarily mean good corrosion resistance are no longer relevant with the introduction of a new range of surface treatments. Instead of focusing on the thickness of the surface treatment, one should focus much more on the anticorrosion properties of the surface treatment.
All DS Stålprofil surfaces are PVC-free and, thus, environmentally friendly solutions.
GreenCoat® and life cycle
Recyclability and a sustainable life cycle are crucial parameters in the constructions of the future. Also as far as steel solutions are concerned. This is why we offer GreenCoat® colour coated steel solutions, in which a significant part of the traditional fossil oil in the colour coating has been replaced by Swedish rapeseed oil.
Contact our specialist
Michael Højgaard Jensen
Architect consultant
Mobile: +45 60 29 45 50